Here's All the Changes Coming to TV In The Weeks Ahead
A lot of changes are taking place on BBC, ITV and Channel 4.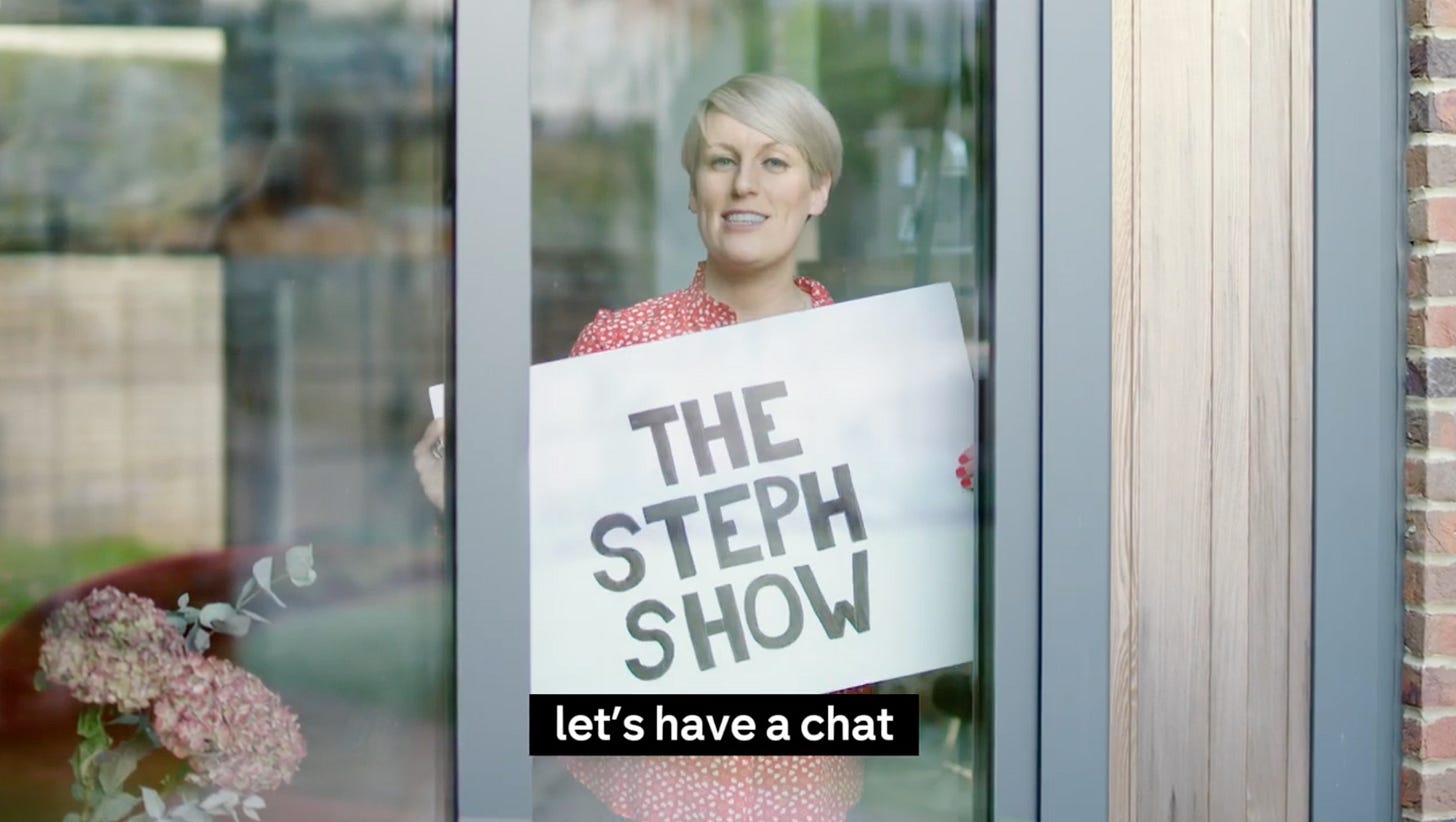 Hello,
All of our lives have been affected the coronavirus pandemic. Pretty much all television production is also on hiatus, that's all soaps and upcoming drama and comedy, with the exception of news programming and a few talk shows. But with millions of us stuck at home with nothing to do over the next few weeks, we've seen a whole raft of special shows being announced by the British channels. 
It's been nearly impossible to keep up, but here's the biggest things to look out for. Television can be a real tonic at times like this, so let's see what they've got in store for us:
BBC
Glastonbury and Eurovision will be on television, even though both have been cancelled this year. Glastonbury will show memorable performances on the weekend the festival would have run, whilst a special Eurovision show on May 16th, hosted by Graham Norton, will celebrate the acts that would have performed this year (Eurovision themselves have also announced that they are making plans for alternative programming, details to be announced).

The Graham Norton Show will be returning with celebrity guests on Friday 10th April. It will be at 9pm, only thirty minutes long, without a studio audience. 

Have I Got News For You is returning as usual, with the panellists sitting two metres apart. The Mash Show will air but the comedians hosting from their living rooms.

BBC Arts is launching a "Culture in Quarantine" festival. BBC Four will show us closed museum exhibitions, including Warhol and Rembrandt. Sadler's Wells, Northern Ballet, Royal Opera House and other filmed performances will also air.

Royal Shakespeare Company performances will be aired on BBC Four and iPlayer to help those who would be studying his work in schools. Hamlet, Romeo and Juliet, Merchant of Venice, Much Ado About Nothing and The Scottish Play will air in the coming weeks.

Speaking of schools, Newsround has now been expanded to broadcast three bulletins a day. David Walliams' kids dramas have been put back on iPlayer. An adaptation of Malory Towers has been brought forward. More educational programmes have also been planned for the weeks ahead, to help parents with the syllabus. I understand more details will be announced in due course.

BBC Four's controller Cassian Harrison has also asked for ideas for history documentaries that should be reshown on their channel to help pupils. Tell him your favourites.

New entertainment shows featuring Peter Crouch, Gareth Malone and The Vivienne are on their way. BBC One is also re-airing classic FA matches on Saturdays.

Radio 4 will delve more into their archive, so expect A History of the World in 100 Objects to air, along with classic episodes of I'm Sorry I Haven't A Clue. New documentaries on the lockdown as well. 

Radio 1 will adjust to new schedule from next Monday to reduce pressures on staff, with DJs broadcasting for four hours at a time. Greg James will broadcast from 7am-11am. 6Music will change their weekend schedule. 1Xtra will change.

Mr Motivator is returning to television - he will be doing fitness routines specifically aimed at those in self-isolation over the age of 70. Angela Rippon will also be hosting, from her own living room. The Green Goddess will be doing fitness routines on BBC Breakfast.

BBC News is being streamlined to protect resources. Victoria Derbyshire is hosting but without her show name, Newsnight may move to a different studio next week.

BBC Local Radio has changed their schedules so hosts can only present by themselves, for four hours at a time. A new "Making a Difference" initiative, where people ring up to ask or offer help or advice, has seen 28,000 calls in four days. 

They are also airing church services on Sunday. BBC One, production crews pending, will be showing church services on Sunday morning too. 

Many more BBC boxsets have been added to iPlayer, including French and Saunders and The Honourable Woman. There's loads of boxsets on there already, from Fleabag to This Country.

Wittertainment on BBC Radio 5 Live will focus on shows you can enjoy from home and their favourites.

They have partnered with charities and manufacturers to give thousands of DAB radios to those over the age of 70. You can nominate a DAB to be sent to someone, website goes live next week.
ITV
Britain's Got Talent will air their auditions as they have already been filmed, but the live shows will air later this year.

Good Morning Britain has been extended to 10am, Lorraine has been taken off air, as crews are short. They say that they have enough Corrie and Emmerdale to last to the summer holidays.

The Voice live finals will also be replaced with specials. CITV have adjusted their schedule. Saturday Night Takeaway will show filmed bits this weekend.

Martin Lewis will host a special show on Thursday night.

ITV News will be airing a show called Coronavirus Report on Monday nights.
Channel 4
The Steph Show, an upcoming show hosted by former BBC Breakfast Show host Steph McGovern, will broadcast as usual but she will be doing it from her own living room. Starts Monday.

Grayson Perry will be presenting an 'arts club', Jamie Oliver has already launched a cookery show for those with limited supplies and Kirstie Allsopp will be presenting her own crafts show. Viewers will be encouraged to send in their creations to help beat the boredom.

They will be hosting a 'virtual' wedding for a "lucky" couple who have had their wedding cancelled, with cameos by "celebrities" to help celebrate their special day.

Channel 4 have added the words 'Stay At Home' on air at all times.

Channel 4 News will be on for 90 minutes on Mondays, with a batch of documentaries announced. C4 News hosts are already broadcasting from their own homes.

Hollyoaks has been cut to twice a week for now, Joe Lycett's Got Your Back will air as usual but with no audience for final episodes, Travel Man has been paused for time being.

And most importantly, Gogglebox will be continuing as usual (thank god!). They have said that they managed to film each episode with remote sets, so the families are able to watch and review the shows for that week without interacting with the crew.
Channel 5
Likely a coincidence, but they recently trolled us all with a show called Britain's Favourite Cleaning Product. 
Netflix
They have announced a hardship fund for those working in TV production, which the BFI have partnered with in the UK. Head to the website and sign up for more details.

No programme announcements for those in self-isolation, yet. Quite a few people, myself included, have noticed this.
BBC One, BBC News Channel and Channel 4 will be "Clapping for Carers" at 8pm.
The BBC 5 Live Must Watch podcast with Nihal, Hayley and me is continuing as normal, with Hayley and I broadcasting from our homes. To ensure good quality, I'm broadcasting from my bedroom floor (the carpet soaks in any echo from the microphone). We'll be keeping you up to date as more changes are made, as well as highlighting bingeable boxsets that you should be watching.
Honestly, I am in awe of all the changes that have been introduced in just two weeks at a time when technical teams are tight. However, we should not forget the thousands of people in the TV industry who currently have no income in the months ahead as television production grinds to a complete halt. Do not be smug if a show you don't like isn't on because of these changes. At the end of the day, there's people just like you and me affected behind the scenes.
And finally, if you are looking for a pick me up, the BBC News Dad returned to the World News channel with his family, to talk about how they are settling to working from home. As you can imagine, chaos ensues.
I'll be tweeting all the latest TV developments at @scottygb, as usual.
Stay safe,
Scotty